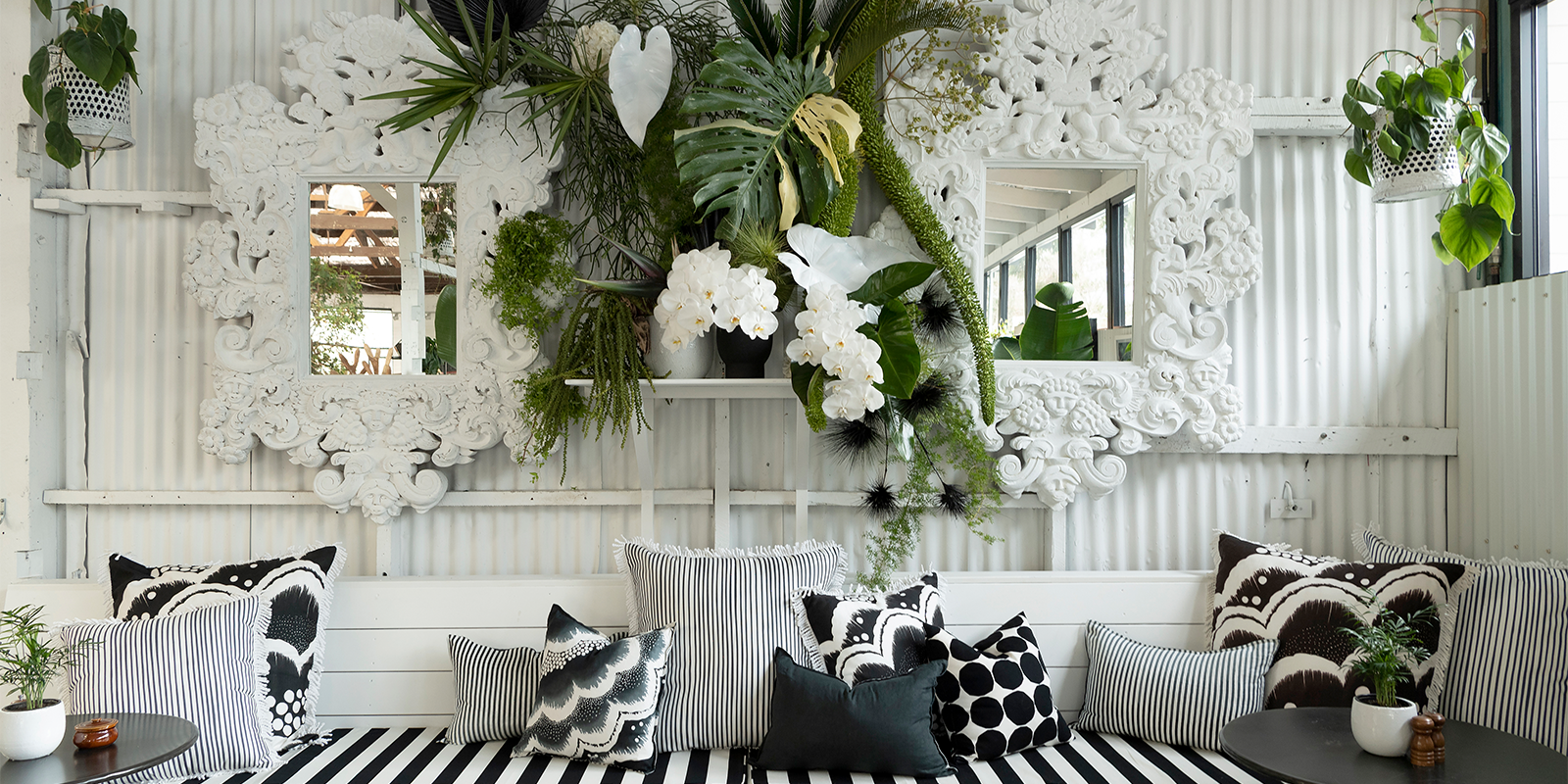 "Our wish was to create a café with a neighbourhood-feel," says creative director Elissa Coleman of Empire's new look café. "A place where people feel at home, return to often, and where the quality of fresh seasonal produce truly shines."
Resembling what our ultimate dream homes might look like, Empire Café is Claremont's new go-to "community kitchen", where local produce is reimagined into brunch, lunch and everything in-between.
"Post-isolation we wanted to give the space a refresh and its very own identity," says Elissa of the café's laid-back style, and bright sunny beautifully curated interior. "It's our version of the perfect tearoom."

Raw natural materials like timber, teak, rattan and marble, as well as brass and marble accents temper the café's chic black and white colour scheme.
A cluster of Tropicane pendants descend from the café's super high ceilings whilst underfoot, French imported geometric lino floor tiles feature. "They're fabulous for acoustics, warmth and beautifully delineate the space providing it real definition," she says.
With natural light streaming through vast pane windows, the café resembles a beautifully styled jungle. Flooded with cactus and succulents, as well as elegant orchids, strelitzias, monstera deliciosa and kentia palms, it is a serene green haven.
Flanking a custom-made teak herringbone counter and Italian painted tiled splash back, sit two black Empire buffets styled with Italian glass lamps and neatly organised bits and pieces, like coral, glossy coffee table books and brass objects.
"Styling the space using our own line of furnishings and décor gives our customers a real sense of how each piece works in-situ, and inspires new ideas for styling at home," says Elissa.
At the back of the café is an ever-changing wall installation mounted between two vast vintage Indian mirrors.
"We suspended a floating shelf between them that acts as a second layer of texture," she explains. "It's designed to be an always evolving installation."
The first is designed by florist Rebecca Grace from Natural Art Flowers. It features a long-lasting base of greenery peppered with fresh flowers, including phalaenopsis, that provide softness against the backdrop of strong greens.
Beneath is a long custom-made bench seat crafted from timber. It's styled with cushions in linens and silks featuring hand painted stripes and florals, as well as a smattering of exclusive House of Casa outdoor fringed cushions for added texture.
Because brunch is a Perth staple, Empire's all-day menu assuages all tastes and inclinations. For the fitness brigade, there's Bread in Common Artisan loafs and organic Post Code Honey, as well as muesli made in Margaret River that brims with goodness derived from wholefoods like macadamias, flaxseed, bran, pepitas, coconut and oats.
"We are passionate about supporting local businesses," says Elissa. "Our coffee is from Little Owl Roasters, and we stock an exquisite selection of teas to sip alongside locally made sweet treats, like Persian pavlova cake and carrot cake with crushed pineapple."
Come lunch, enjoy a bowl of homemade soup or fresh pâté with crusty bread. For a quick fix-on-the run, choose from a range of Temptation's homemade sausage rolls, including organic beef with chilli, spinach and ricotta, or a kale and fetta quiche. For all-out indulgence, opt for a classic Ruben Sandwich, chicken and dill mayonnaise baguette, or zucchini, sweet potato bread and cheddar loaf with whipped feta.


FEATURED PRODUCTS
Martini Chair — Grey/grey
Breuer Side Chair — Black/rattan
Breuer Arm Chair — Brass/rattan
Casa Stool — Black/rattan
EMPIRE CAFÉ IS TEMPORARILY CLOSED
PHOTOGRAPHY — Jody D'Arcy
FLOWERS — Rebecca Grace