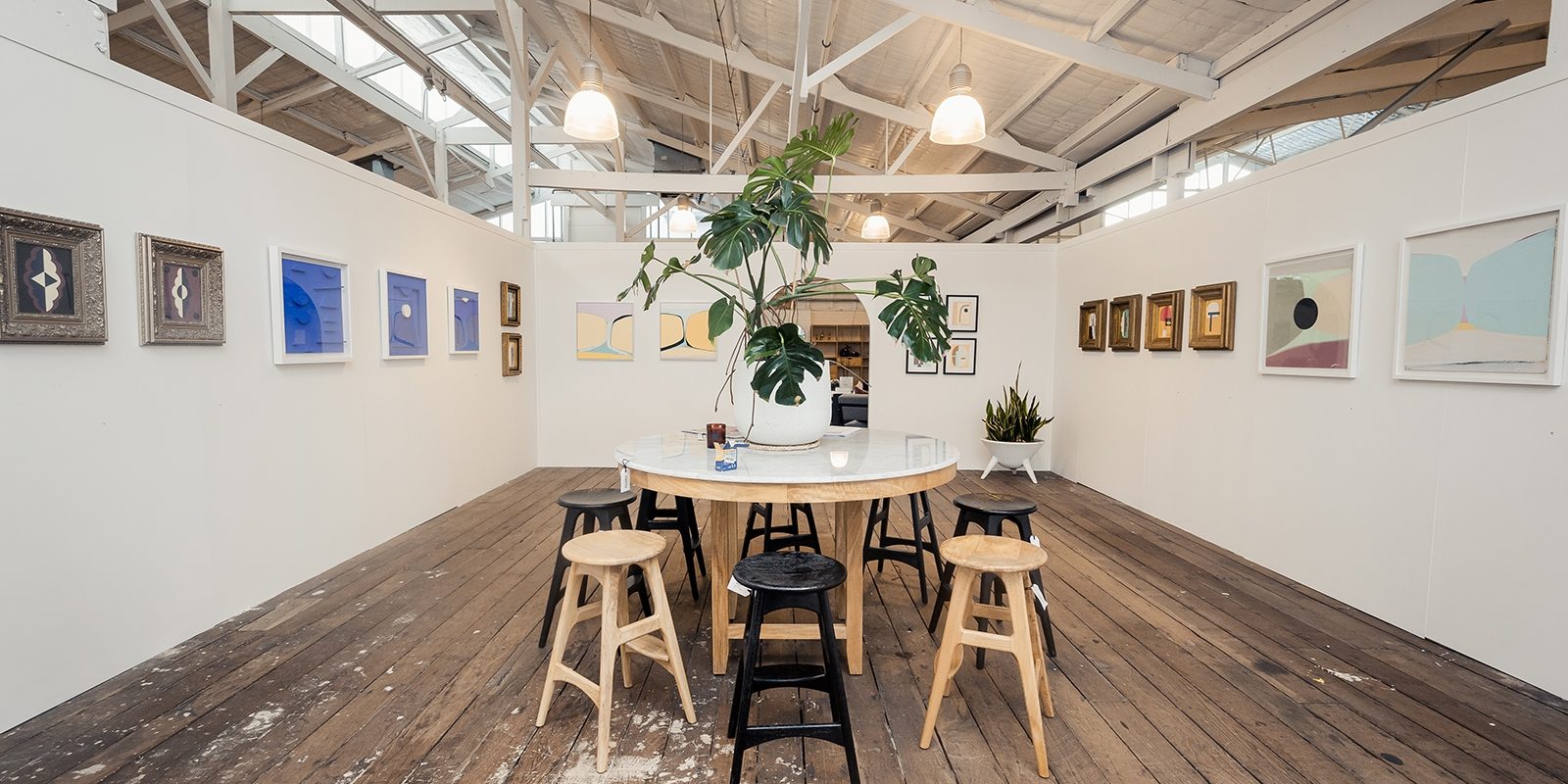 Empire x Daimon Downey 'Memories of the Future' Exhibition
When Empire presented Daimon Downey's show Memories of the Future last month, it was a Perth first and walk down memory lane for the artist.
Revisiting works from exhibitions gone by, the former Sneaky Sound System co-founder and front man says the collection "was like taking a piece of candy from every lolly jar."
This retrospective delivered the vibrancy, colour and simplicity we have come to expect of Downey's work that he creates from his Bondi studio.
Whilst he was in store, we sat him down and chatted with him about everything, from pastels and Iranian folk music to the things he obsesses about most.

WELCOME TO PERTH DD. DO YOU KNOW US WELL?
Yeah I've been to Perth heaps of times with Sneaky Sound System over the years when we have played at The Cottesloe Hotel and supported Robbie Williams. I have been up to Broome about six years in row DJing too. I love it here - the light is different and the sun rises behind you, so morning beach swims are in the shadows.
EMPIRE FEELS LIKE JUST THE RIGHT FIT FOR YOUR ART.
It is and the stars have aligned for this exhibition. I've known Elissa for years and I've always wanted to do a show in Perth. I brought it up with her and she said "yes yes yes let's do it!" It was going to be a gigantic party for 1000 people, but then we decided to keep it small and intimate and make it more of an 'Art Party'.
WHEN DID YOU START CREATING ART?
I was born with a pencil in my hand. I was probably in my mother's womb scribbling away. I left school early to study art then moved to Sydney to paint.
YOU WEAR LOTS OF HATS….
Music, hospitality, and now this new incarnation as an artist, which is actually a revisit of my old self - I studied Fine Art before I fell into the music world.
WHAT WORDS DESCRIBE YOUR STYLE?
Balance obsessed. Colour obsessed. Aesthetically driven.

WHERE AND HOW DO YOU COME UP WITH IDEAS AND THEMES FOR YOUR ART?
My painting always starts with an arch - I never paint a square or corners – only when I collage. If you were to strip back my paintings, you would find about five other paintings underneath because they keep on going and going until I'm happy.
WHAT IS IT THAT YOU LOVE MOST ABOUT COLOUR….
That it exists and people enjoy it. Colour tells so many stories and makes me feel alive. I don't think we use it enough. Our houses should be full of it and everyone should be wearing it.
FAVOURITE COLOUR?
Impossible to choose a favourite but if I had to, it would be something in the pastel spectrum. I don't usually use primary colour – only when I am using paper cuts, otherwise I only use pastels. Never patterns, just block colours.
WHAT'S YOUR FAVOURITE DECADE?
Artistically the 1960s, and musically the 80s.
WHO IS YOUR FAVOURITE ARTIST?
Artists like Rothko and Mondrian for their insane sense of simplicity – the simple lines and precision of shape. It's about creating the perfect shape, like a triangle. It is so hard to create it perfectly and people really appreciate that.

HOW OFTEN DO YOU PAINT?
My studio is in my house in Bondi, and I can go days without painting and then other times get stuck in there painting forever and not move.
DO YOU LISTEN TO MUSIC WHILST YOU PAINT?
All the time. Sometimes I listen to an artist's full catalogue of music, like David Bowie, and it can take up a full day. Right now I am obsessed with Iranian folk music. The voices are insane – it's hypnotic.
DO YOU LISTEN TO YOUR OWN MUSIC?
Fuck no.
DO YOU HAVE A PERSONAL FAVOURITE WORK?
In this show, it's a self-portrait called Guess Who.
DO YOU BECOME ATTACHED TO YOUR WORKS?
I usually keep a painting from every show. It can be tough letting go of a piece I love but also it's exciting when I know where it's going. I did a series of photographs once, and later made contact with the people who had bought them so I could interview them. So yeah, there is a real sense of attachment to my work. I love it when someone tells me they have seen my work in someone else's house.
WHY DO WE NEED ART SO BADLY?
We are emotional beings so we need stimulus. Like music and great food, art feeds us.